"Suffering is humbling. It pays to know how to get your butt kicked."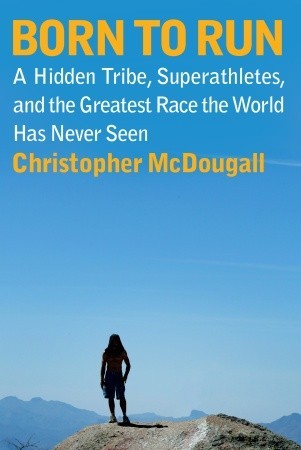 "Born to Run: A Hidden Tribe, Superathletes, and the Greatest Race the World has Never Seen" is an epic adventure that began with one simple question: "Why does my foot hurt?" In search of an answer, Christopher McDougall sets off to find a tribe of the world's greatest distance runners and learn their secrets, and in the process shows us that everything we thought we knew about running is wrong. Isolated by the most savage terrain in North America, the reclusive Tarahumara Indians have lived hidden in Mexico for centuries. During the time of Cortez, when the Aztec and Inca Indians were fighting against the armada, the Tarahumara decided instead to run and hide which is why they are still around today. They are the best distance runners in the world, who think nothing of blasting off on a 48-hour run after an all-night drinking session. Oh, and they don't wear Nikes, preferring homemade sandals they made out of whatever is lying around.
For centuries they have practiced techniques that allow them to run hundreds of miles without rest and chase down anything from a deer to an Olympic marathoner while loving every mile of it. However their existence is becoming more and more threatened as drug cartels move into the Tarahumara's land, bringing crime and violence with them.
With the help of Caballo Blanco, a mysterious gringo loner who lives among the tribe, the author not only was able to find his own inner runner, but organized the race of a lifetime: a fifty-mile race through the heart of Tarahumara country. Along the way McDougall introduces a cast of characters worthy of Dickens, including an almost superhuman ultramarathoner, Jenn and the Bonehead–a couple who down bottles of booze to warm up for a race, Barefoot Ted, Mexican drug dealers, a ghostly ex-boxer, a heartbroken father, and of course the Tarahumara, arguably the greatest runners in the world.
The scenario is a writer's dream. McDougall found a large cast of crazy characters, an exotic setting for drama and discovery, and a tailor-made showdown with which to cap the book. By and large it's a thrilling read, even for someone who couldn't care less about proper stride and split times and energy gels. McDougall expertly weaved the interlocking narratives of the history and unique life view of the Tarahumara Indians, the experience of ultrarunning, the conspiracy of the multi-billion dollar running shoe industry, his personal experiences with barefoot running, ultrarunning characters like Ann Trason, Scott Jurek, Barefoot Ted, Luis Escobar, the crazy antics of Jenn Shelton and Billy Burnett, all cumulating in "the greatest race the world has never seen". This is an unbelievable fantastic book, and the second I put it down I went out and ran five miles*
*No I didn't.