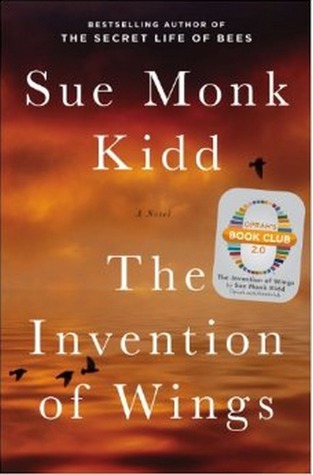 We all like to think we'd be the hero. The ones that show up in the movies all the time. We'd be the ones to stand up to the Nazis or the terrorists or the plantation owners. But Sue Monk Kidd's The Invention of Wings hammers home how truly difficult and isolating doing the right thing can be.
Sarah Grimke has big dreams. Despite the fact that women were not allowed to practice law (or really have any career) while she was a girl in the early nineteenth century, she dreams of being a jurist. She has a strong sense of right and wrong, so when she's given a slave girl named Hettie on the eleventh birthday, she tries to give her back. When that fails, she tries to set her free. She fails, and tries instead to be the nicest owner to Hettie she can be.
The book alternates between Sarah and Hettie (called Handful by her mother) as they grow up. Both are trapped by their circumstances. Handful is (obviously) a slave with no autonomy over her life. Despite her physical bonds, Handful cultivates small rebellions against her masters, and draws strength from the rituals her mother taught her.  And while she's a rich white woman, Sarah is trapped by her society's expectations for women.
The relationship between the women is complex. Handful loves and hates her master. Sarah may be kind to her, but she still owns her. And for all of Sarah's goodness, she's not capable of freeing Handful or even sparing her from her mother's brutal punishments. And despite Sarah's abolitionist streak, she still feels a few ugly twinges when she sees Handful acting like she's "more" than just a slave.
I liked that the book was complicated. It did a really good job of pointing out the isolation a white person would feel for publicly opposing slavery. I also really like the book's point that even the "good" guys-the abolitionists, the Quakers, the people on the right side of history-were also fallible.  I really liked Sarah's story line.  But despite their equal amount of time in the book, I felt like Handful wasn't given as much to do. Don't get me wrong. She did a lot, and all of it with a quiet dignity and a ferocious spirit. She wasn't saved by any well-meaning White Saviors. She saved herself. But Sarah was the one changing and having adventures, while Handful was still stuck in the plantation, biding her time until she could make her break for it.  While this was a very good book, I can't help but be a little tired of stories about how slavery made white people feel.