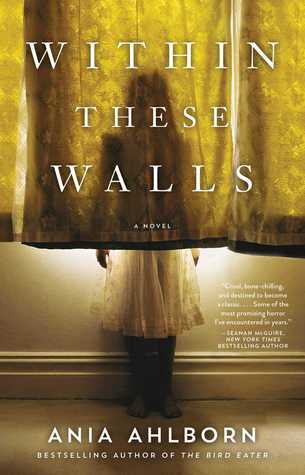 Manson murderghosts.
Yup, that's what Ania Ahlborn's Within These Walls is about. Down-on-his-luck true crime writer Lucas Graham is watching his world implode. He hasn't written a hit in years. His blatantly cheating wife wants a divorce. She's also going to want primary custody of their teenage daughter, Vee. That's when Lucas gets a letter from notorious cult leader Jeffrey Halcomb. Halcomb is serving life behind bars after his followers killed a pregnant woman and then committed mass suicide thirty years prior. He's never spoken about his part in the murders, Halcomb says, until now. He offers Lucas his first and only interview about what happened on that fateful night, but (of course) he has conditions: Lucas must conduct all the interviews in person, he most move into the home where the murders were committed, and everything must be finished in six weeks.
Lucas jumps at the chance, and he and his daughter move in right away. And it's not long before they start noticing funny things about the house-voices…the feeling of being watched…and the people Vee keeps seeing in the backyard. Even though Lucas is starting to feel unsettled, it's too late to back out now. It's his last chance at success…
The book flips back and forth between Lucas and his daughter's perspectives and the point of view of one of Halcomb's followers, Audra Snow. It also utilizes police reports, news articles, and paranormal investigations about the house. Slowly, Ahlborn draws back the curtain, and we're able to see what's going to happen to Lucas and Vee before they do.
I picked this book up after reading Ahlborn's cannibalistic coming-of-age-story Brother. That book was scary as hell and may have ruined my life for a few minutes. This book is also pretty scary, in a subtle, sneak-up-behind-you kind of way. While the ghost stuff is creepy, people are always scarier, and I kept hoping for people to escape the cult, even though I knew it couldn't happen. This author is not a fan of happy endings. If you like horror, I would recommend picking this book up. Then do what I plan to do, and plow through the rest of Ania Ahlborn's work.