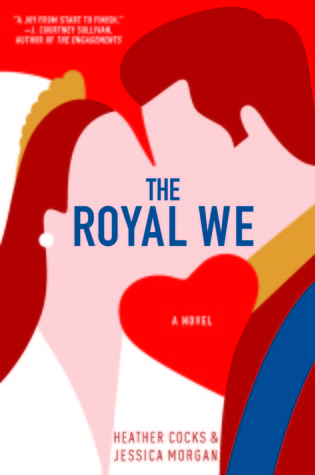 It's a tale as old as time. Boy meets girl at university, boy turns out to be a prince, boy and girl secretly date for years, weathering breakups and paparazzi intrusions, boy and girl work it out, girl wears an Alexander McQueen gown at their royal wedding. Sound familiar?
This book is 100% Kate Middleton fanfiction, and no one better have any problem with it.
The Royal We is the latest offering from the hilarious girls over at the fashion website, Go Fug Yourself. It tells the story of an American girl named Bex who goes to London for a semester of study abroad. Bex is a Cool Girl-she loves junk food and beer and terrible tv and isn't looking for a relationship. But on her first day in the dorms, she meets Nick, heir to the throne. Sparks fly, they're dating, his family's crazy, the tabloids are making fun of her yada yada yada. Will those two crazy kids make it? Of course they will!
This book sounds ridiculous when you describe it, but I really enjoyed The Royal We. The snarky attitude and fabulous one-liners that make up Go Fug Yourself are on full display here. I actually laughed out loud more than a few times in this book. It was a fun, breezy read that I'd recommend to anyone who's just looking to escape for a few hours. And I really want someone to smuggle this book into Buckingham Palace. I think Kate would get a kick out of it.