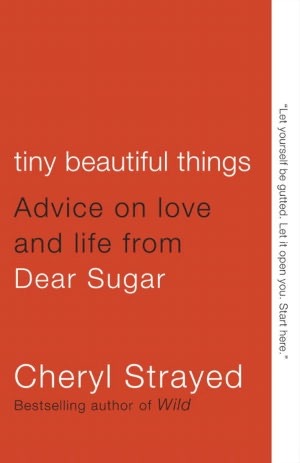 Cheryl Strayed is one of those rare authors becoming a household name. Wild, her memoir about hiking the Pacific Crest trail topped the bestseller list for weeks. Oprah was one of her early champions. Strayed walked the Oscars red carpet to support the critically acclaimed movie adaptation. That's how most people know her.
What they don't know is before we were all passing around dog-eared copies of Wild, Strayed was already cultivating a loyal fan base with an advice column under the pseudonym Sugar. I'd vaguely heard of it, but I wasn't that into self-help, or anything too mushy, or being forced to confront the fact that I have human emotions. Then someone sent me a link to one of her articles. The question sent in was:
Dear Sugar,
WTF, WTF, WTF? I'm asking this question as it applies to everything every day.
Best,
WTF
Sugar's reply:
Dear WTF,
My father's father made me jack him off when I was three and four and five. I wasn't any good at it. My hands were too small and I couldn't get the rhythm right and I didn't understand what I was doing. I only knew I didn't want to do it. 
How can you stop reading after something like that?! She finished her article with this piece of advice:
That's what the fuck it was. The fuck was mine.
And the fuck is yours too, WTF. That question does not apply "to everything every day." If it does, you're wasting your life. If it does, you're a lazy coward and you are not a lazy coward.
Ask better questions, sweet pea. The fuck is your life. Answer it.
If her answer irritates you, then Tiny Beautiful Things isn't for you. A compilation of her advice columns, Strayed talks to us about miscarriage, aimlessness, addiction, loss and unhappiness. Her advice can be tough, but it's full of love and peppered with endearments like "sweet pea" and "dear one." Part of what makes her successful is her ability to share her own heartbreaking stories in order to connect with her readers. Reading it reminded me of one of my favorite scenes from The West Wing.
"Then a friend walks by. 'Hey Joe, it's me, can you help me out?' And the friend jumps in the hole. Our guy says, 'Are you stupid? Now we're both down here.'The friend says, 'Yeah, but I've been down here before, and I know the way out.'"
Sugar has been in the hole. Hell, Sugar lived in the hole. Which gives her advice some authority, even when she hasn't gone through what the advice seeker is asking about. Maybe her advice isn't always perfect. But her sincerity always shines through.
So many moments in this book took my breath away. But the column that really sticks was written to three women, each of whom wrote her variations of the same letter-they all loved their significant other, but something in them wanted to go. Strayed gave them the same advice she gave herself when she was leaving her first husband-go even though you love him. I passed that section around to a few friends facing that same issue, and they all said the same thing, that they felt like she was speaking to them directly.
This is a wonderful book. Even if you don't like self-help. Even if you don't like advice. Even if you don't think you need it. The beautiful writing and sweet earnestness jumps off every page. I wish I had read this book more slowly, and savored each piece of advice. Even before returning Tiny Beautiful Things to the library, I'd made up my mind to buy my own copy. It's the kind of book you read, and reread, and hand out to your friends so they can take something from it as well.